"Still so new and already so powerful"
The painter Charles Nègre, encouraged to take up photography as a study-tool by his teacher Paul Delaroche, became one of the early masters of the medium in France.  After a short period of experimenting with making daguerreotypes, he started using the calotype (paper negative) process in 1847. In 1852 he documented the Midi region of France which established his reputation as a photographer of architecture.  Like other photographers dissatisfied with the changing appearance of salt or albumen prints as they faded, Nègre actively pursued an alternative printing method that could combine subtlety of tone with permanence.
1854 was a landmark year for experimentation with photomechanical printing in France, a phenomenon followed with intense interest by writers of Europe's first photography journal La Lumière, edited by Ernest Lacan.  Like Nègre, Lacan had become convinced that, because of the impermanence of silver salts, the true future of photography was to lie in the use of printer's ink. While the photogravure methods recently devised by Niepce de Saint-Victor and Fox Talbot were successful in reproducing simple higher contrast images, when it was applied to images with a subtle continuous tone, the results were unsatisfactory. An understudy of Niepce, Nègre set himself to perfecting Niepce's process by working to achieve improved tonal values, submitting his tests to Lacan and La Lumière along the way. Lacan was impressed with Nègre's results and published two of his photogravure plates in La Lumiére emphasizing the importance of his work: "These plates, not retouched, have a delicacy, a tonal transparency, a perfection that the most beautiful of daguerreotypes could never surpass. In seeing them, it is impossible not to recognize that photographic engraving is destined to revolutionize the arts."

Nègre detailed his success in photogravure in a talk given to the Académie des Sciences on December 18, 1854, an account of which was published in La Lumière on December 23. Printed with this article is Nègre's view of François Rude's relief Le Départ, from the Arc de Triomphe. Part scientist, Nègre took careful notes of all his experiments and tests, numbering and lettering them sequentially.  The very few of these tests that survive offer a rare insight into the challenges Nègre faced as well as the progress he made. Lacan writes of Nègre's tests…  She is an Arlésienne sitting [sic] and reading, on the threshold of the old cloister of Saint-Trophime. When we have seen this ordeal, it had only been subjected to one bite, and yet the details stone walls gnawed by time and on which light traces thousands of drawings strange, have been reproduced better perhaps on the steel than in the photographic snapshot, remarkable for its finesse. Without editing this board, but submitting successively some parts very vigorous, but lacking in transparency, the action of the biting, tempered by the resin powder, the artist will make a complete work (Feb 1854).

We are fortunate to have in this collection Nègre's five successive "essais" test prints from the etching of the Le Départ pate that appeared in the December 23, 1854 issue of La Lumiére.  Nègre notes that 'Plate 5' was made after the La Lumiére press run of 1,000 impressions. The plates are the provenance of Nègre's estate via gallerist Alain Paviot.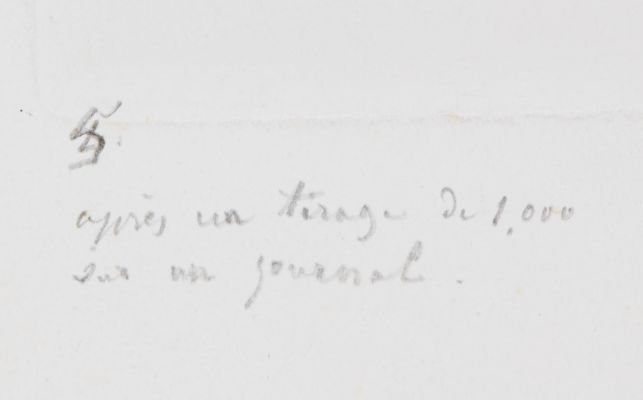 References
Borcoman, James, and Charles Nègre. Charles Nègre. Ottawa: National Gallery of Canada for the National Museums of Canada, 1976.
La Lumière: Revue De La Photographie: Beaux-Arts, Heliographie, Sciences. Paris, 1851.
Lewis, Jacob W. Charles Nègre in Pursuit of the Photographic, 2012
Photography in Print : From the Photogravure to the Photobook, Bernard Quaritch ltd Catalogue 1394