This moment occurred during a memorial service for the children killed in a church in Birmingham Alabama in 1964. The photograph shows the men coming out of the service at a church in Harlem. The men were coming out of the church with faces so serious and so intense that I responded, and the image was made.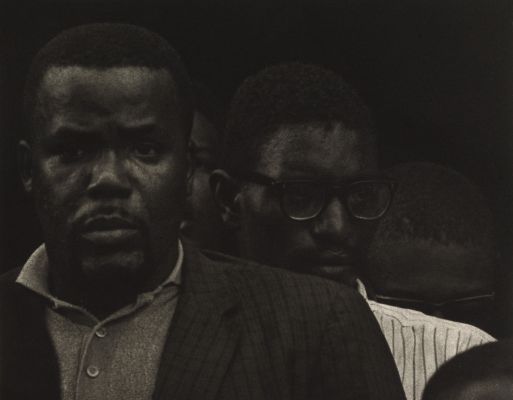 Roy DeCarava (1919–2009) began his artistic career as a painter and printmaker. To aid in his sketches, DeCarava used a hand-held camera; yet, within only a few years, he embraced photography with fervor, embarking on a career in the medium in the late 1940s that would take him into the 20th century. Born and raised in New York, DeCarava was Harlem's photographer, as his honest and gripping photographs of the vagaries of modern life attest. Showcasing the urban environment in all of its gritty glory, DeCarava accentuated the daily activities of African-American men and women, avoiding sensationalist and off-center personas in favor of social realism. Imbued with a dark tonal range, DeCarava's photographs provide keen insight to a deft eye intent on discovering visual truths.
I want to photograph Harlem through the Negro people. Morning, noon, night, at work, going to work, coming home from work, at play, in the streets, talking, laughing, in the home, in the playgrounds, in the schools, bars, stores, libraries, beauty parlors, churches…
While not the first African-American photographer to chronicle Harlem, DeCarava quickly became its champion, as the neighborhood morphed from the center of artistic and intellectual creativity during the Harlem Renaissance to an essential destination for Civil Rights luminaries and their messages of change. He illuminated integral components of mid-twentieth-century urban life in New York. DeCarava worked closely with Paul Taylor of Renaissance Press, as Paul layered ink on the plate to produce what they liked to call a 'soul sucking black'. He has been described by one critic as a "poet of light" for his printing style and rich subject matter. The now famous
Twelve Photogravures 
portfolio
was released in 1990 in an edition of 50 plus 12 proofs and has long been sold out.
The collection currently has three prints from this powerful set.
References
David W. Dunlap, Lens, New York Times