In my other life I take photographs.
Who is Hendrik Faure?   I asked myself that question when I received his email in 2012, seeing Asklepios Psychiatrie Niedersachsen GmbH  in the signature stamp. Faure had written a two-sentence introduction offering to send me some of his work for this site. My first question to Faure: do you work in copper or polymer?   "I am working in traditional etched copper, using large format negatives, analog copies or digital interpositives and rosin aquatint or random screen."  And so began our long-distance correspondence and friendship. Still I wondered, who is Hendrik Faure?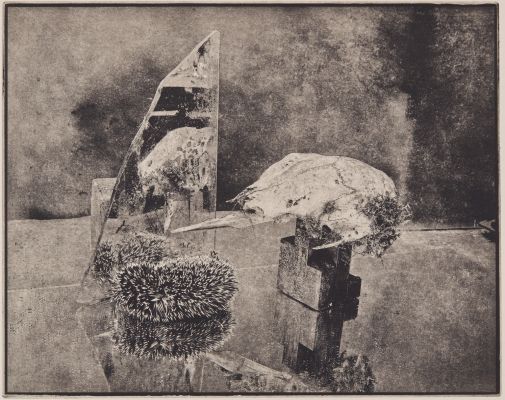 Several years later, I nervously opened my first package of Faure's photogravures, only to find a small group of beautifully haunting, well-crafted images. My interest grew. When in 2014 I asked for his CV, resume, or other information, he told me he had been practicing psychiatrist in Göttingen, Germany for the past thirty-five years, photographing all the while. He had a few small exhibits and was represented by Laura Noble in London. On her site, Noble writes: "Hendrik Faure's series titled Photogravuren: Pictures on decay, beauty and death are exquisite photogravures which depict still life and lonely landscapes with richly textured, haunting results. Using objects in his studio Faure creates intimate microcosms combined with the reoccurring themes of life, beauty and decay. Flora and fauna wilt and dry alongside animals, reptiles, birds, skulls and mannequins. Despite the sombre nature of the subjects his imagery is rich with emotive and silent composure. The distressed appearance of Faure's photographs creates a venerable classicism. His sometimes-surreal scenes slowly reveal themselves amidst the distressed qualities of the gravure. His prolific output is aided by neighbours whom readily donate any naturally deceased animals found on their land. He refers to these creatures simply as his 'models' creating delicate interpretations of them with care and sensitivity."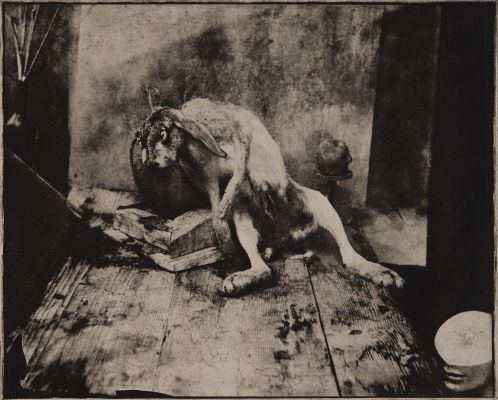 Recently I suggested to Hendrik that we meet and he invited me to visit, supplementing the offer with images of the small village where he and his wife live. He suggested a spring visit... "I advice spring time. In spring forests are really pleasant. You can have a bike or a (public) electrical bike, if you do not like mountains. The ducks are making most eggs then. Own bread, and simple sicilian grillo of course. One sausage a day keeps the doctor away, but we prefer french Comté cheese. If you like fresh milk, next cow is 50 meters…local vine dealer is 1 minute per bike from our house. Opening times are rather unpredictable, but my wife knows where the key is."  Sounds too bucolic a place to create such haunting images, making Hendrik's story all the more intriguing.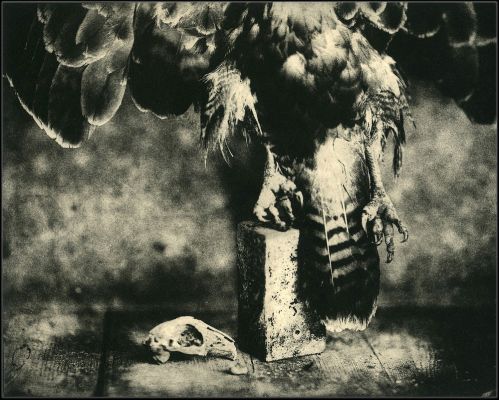 So, who is Hendrik Faure? I am still not sure. Perhaps his response to my request for an artist's statement best sums it up:
No statement, sorry—the story is within the picture.
What I am sure of is that Hendrik is someone who understands and has successfully harnessed the expressive potential of the photogravure and employs it in the creation of powerful work. Other than that, I am looking forward to finding out.
There are twenty-six prints by Hendrik Faure in the collection.