These tests mark the earliest known experiments in photolithography - an important original photomechanical process whose developments paved the way to the dissemination of photography in print.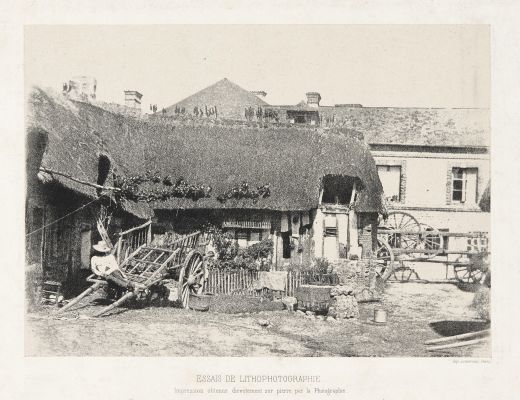 By the mid 19th century it was clear that harnessing photography to reach a broad audience rest in its ability to be transferred onto the printed page; a technical challenge that consumed many of the greatest scientific and entrepreneurial minds of the day - including that of Frenchman Rose-Joseph Lemercier (1803-1887).Prior to the invention of photography, Lemercier gained notoriety as one of the first Parisian printers to explore the commercial potential of the art of lithography - a planographic printing process that could reproduce artwork hand-drawn onto stone. In the 1820's, the young Lemercier honed his printing knowledge by working for several prominent lithographic print shops including Knecht, founded by Aloïs Senefelder, lithography's inventor. (1)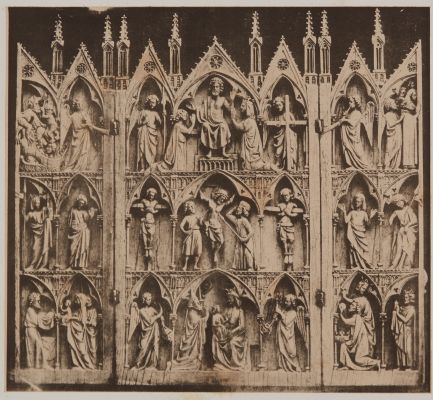 By the mid-1840s Lemercier had proceeded to establish an enterprise that would dominate the Parisian art-printing industry. Lithography served the emerging printing needs of both art and commerce well.  A shrewd entrepreneur, Lemercier was constantly on the lookout for new technologies that would give him a competitive edge. Even ultimately operating his own chemical-based imprimerie photographique (photographic printshop), he understood that the true power of photography rested in its ability to be reproduced in ink. It was Lemercier that first believed the problem could be solved with the help of lithography.As early as 1848 Lemercier began experimenting with technology that could possibly unite photography and lithography. Consulting with the optician Noël Paymal Lerebours and chemists Charles-Louis Barreswil and Louis-Alphonse Davanne, Lemercier was the first to attempt to transform the fugitive paper-based photograph into a permanent ink-based photolithographic print. He named his process Lithophotographie.
By mid-1852 the team had succeeded in executing experimental trial proofs which he labled "Essais de Lithophotographie; Impression Obtenue directement sur Pierre par la Photographie" and, on June 28, delivered them along with an explanation of the process to the Académie des Sciences seeking a patent. On August 16, François Arago presented the work and the patent was granted.
Today there is no longer any doubt as to the future reserved for this invention.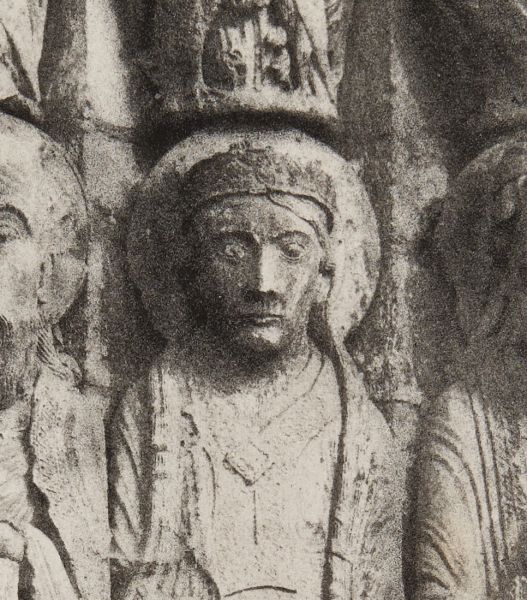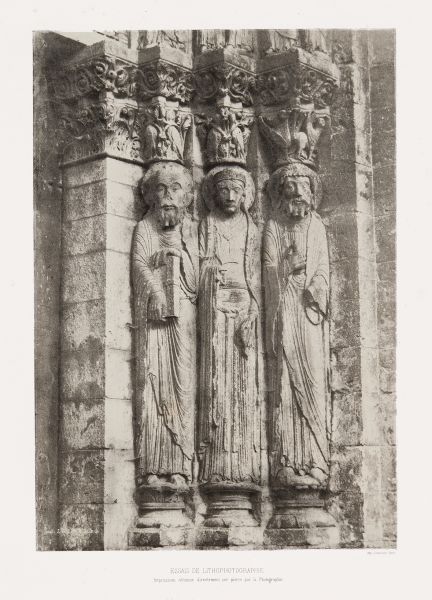 The first batch of these tests, so rare that they were not even submitted to the 'depot legal' for protection, were passed through the press twice - black tones were printed first, followed by a second printing of buff-colored secondary tones.  This was common in working lithographic practice of the day.Seeking greater efficiency however, Lemercier soon abandoned this two-pass method and in 1853 replaced it with a more efficient chine-collé method. The improvement satisfied the industrial objectives of new printing techniques by removing a step enabling more productive mechanization.
Eager to promote his invention to a larger audience, Lemercier established a photographic printing division in his lithographic printing house and immediately produced a portfolio of six photographs entitled, Lithophotographie: Ou Impressions Obtenues Sur Pierre À L'aide De La Photographie. The six prints were from paper negatives taken by Henri Le Secq and were published by Goupil & Cie and Gide & Baudry in the notebook at the Academy of Sciences in January 1854.
In 1855 to Lemercier's dismay, Alphonse Poitevin (1819–1882) improved the process calling it photolithography.  But as smart of a scientist Poitevin was, he was not an astute entrepreneur. In 1857 Poitevin was in debt and sold Lemercier rights to his process.As dictated by the logic of industrial progress, Lemercier's use of Poitevin's improved process of photolithography was challenged by subsequent ink-based techniques, particularly the screened half-tone, still in use today. Still photolithography is recognized today as one of the most important inventions of the 19th century in the field of graphic arts.We are privileged to have five rare early examples of Lemercier's lithophotographs in our collection.
References
(1) Senefelder arrived in Paris in 1818 with his family and his nephew Edouard Knecht. He founded a workshop on rue Servandoni. Knecht, having been trained by Senefelder, ensures its direction, then the complete management following the return of Senefelder to Munich in 1824. Lemercier worked in the Knecht workshop from 1820-1859. (Treatise on lithography, history – theory – practice , Paris, La maison Ch. Lorrilleux,1889, in Foreword, pages 11 to 20)
(2) Bonaparte, Napoléon-Joseph-Charles-Paul. Rapports Du Jury Mixte International: Publiés Sous La Direction De S.a.i. Le Prince Napoléon, President De La Commission Impériale. Paris: Imprimerie Impériale, 1856 1230
Reference:
Hannavy, John. Encyclopedia of Nineteenth-Century Photography. New York, N.Y: Routledge, 2008. Pp. 843-845
(primary) Rosen, Jeff. Lemercier Et Compagnie: Photolithography and the Industrialization of Print Production in France 1837-1859. 1988
Sotheby's Photography, Part Two – Collection of Marie-Therese and Andre Jammes Work 21 March