If ever there was a photographer with lofty aesthetic aims, it was Alfred Stieglitz, patron saint of 'straight photography', founder of the Photo-Secessionist movement, promulgator of abstract art and encourager of the avant-garde, idiosyncratic gallery owner, and resolute editor-publisher of one of the most famous of all photographic journals, Camera Work.
It was here that the pantheon of early moderns was first widely reproduced: Clarence White, Gertrude Kasebier, Edward Steichen, Frederick Evans, Alvin Langdon Coburn, Frank Eugene, Robert Demachy, Joseph T. Keiley, and Stieglitz himself.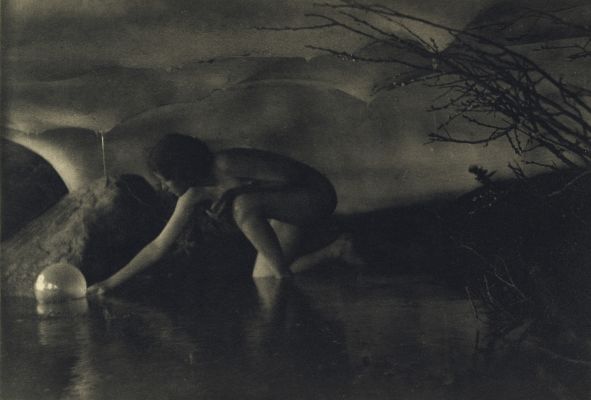 A dazzling array of photo-technologies was employed to convey the works of these photographers to an as yet indifferent public. Among these technologies were 'straight' photogravure … mezzotint photogravure, duogravures, one-color halftone, duplex halftones, four color halftones, and collotypes. Of these, photogravure was the predominant medium throughout the entire publishing venture of Camera Work, from its optimistically polemical beginnings in 1903 to its almost unattended extinction in 1917. These tipped-in, double-mounted, Japan tissue, individual plates were so magnificent that, as Jonathan Green observes, 'It has been frequently remarked that the reproductions in Camera Work are often finer than the original prints'.
Since many other pictures in Camera Work are photogravures from 'original negatives', we may be forced to consider photogravure to be a 'direct medium', just as the printing of a positive from a negative in a darkroom is said to be 'direct'.
Gravures recalled the richness of mezzo-tints, the jet-black inks of lithography, the delicacy and fine lines of etching, the decorative capabilities of aquatint. Indeed, at an historic exhibition of photo-technological methods held at the Boston Museum of Fine Arts in 1892, the name given to the photogravure process had been, precisely, 'photo-aquatint'. This was by no means a misnomer, for photogravure is essentially based on the properties of aquatint, in which the reticulation of a powder on a metal plate provides a wide variety of dot structures, varying in size and depth, which are etched with acid to produce an intaglio printing plate. While the name 'photo-aquatint' did not last, the process was promptly acclaimed as the most beautiful, the most silky, dense, rich, of all the photo-technologies, as permanent as the oil-base type of carbon ink which Gutenburg had created.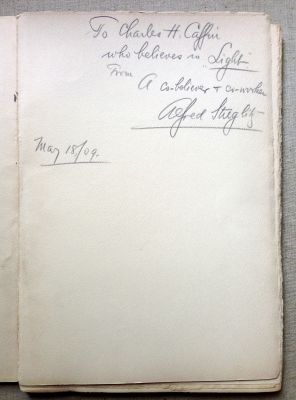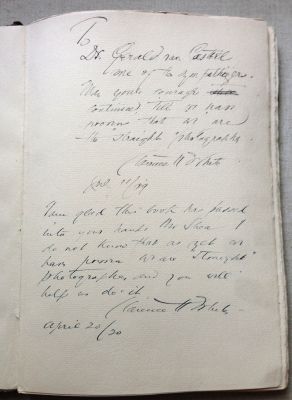 The reader was clearly invited to respond to the plates in Camera Work as if these were original prints, and this very much suited Stieglitz's larger purposes, which included the attempt to raise photography into the Olympian heights of the more traditional fine arts. In this quest for equality with the older visual arts, Stieglitz also depended on the fact that photogravure would not only beautifully present Cameron's or Eugene's pictures, but would connect photography to etching and aquatint by its intaglio richness of printer's ink. Once convinced that the hand of an artist was at play in the production of a picture, perhaps they would give up their incessant harping on the contemptible mechanical aspects of the camera.
We are grateful to have a complete set of Camera Work in this collection.  The set has been assembled over the past fifteen years and contains issues deaccessioned from The Paul Strand Archive, The Museum of Modern Art, The Estate of Dorthy Norman and Joanna Steichen.  Inscriptions and signatures include those from Stieglitz, Steichen, Strand, White, Annan, Davison, and Coburn.
This site provides comprehensive, unique access to both Camera Work's images as well as its treasure trove of critical texts. 
References
The the content of this page has been adapted from:
Estelle Jussim (1979) Technology or Aesthetics: Alfred Stieglitz & Photogravure, History of Photography, 3:1, 81-92