I had the pleasure of crossing paths with Abe Morell at a mutual friend's wedding several years ago.  During our conversation, I asked if he had ever considered working in photogravure.  He said that he made one plate when he was getting his MFA at Yale. Of course I had to ask if he still had the print. He laughed and said he was sure it was somewhere. Well to my delight and surprise, Abe reached out to me last year and said that, although he had not located a print, he was considering producing a new portfolio of photogravures.  His son
Brady
was directing an independent feature film and Abe had a special agreement with his Gallery,
Edwynn Houk
. He could help Brady raise funds for the project by selling a body of work independent of the gallery – offering a rare opportunity to make work available to his friends and collectors at a modest price.
We discussed the photogravure syntax and he understood that creating new work specifically for the photogravure aesthetic was ideal. He came up with a beautiful idea. He wanted to unite the photogravure process to the photographic through the smoke and ink based antiquarian technique of
cliché-verre
.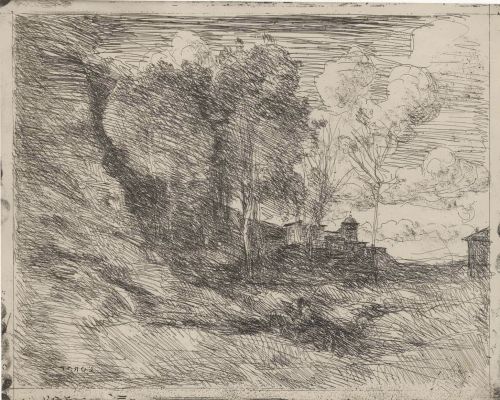 "Cliché-verre is a method of picture reproduction devised in 1839 by Fox Talbot – the English inventor of photography. Later in the 1850s, the French artists Corot, Millet, Daubigny and others used cliché-verre. The artists applied dark ink or soot from a candle to blacken glass sheets, which when dry, allowed them to scratch drawings on the glass surface. The hand-drawn image on the glass plate was then sandwiched with photographic printing paper and exposed to light in the darkroom in order to come up with a photograph of the drawing. This hybrid art form combines printmaking and photography in a delightful and inventive way."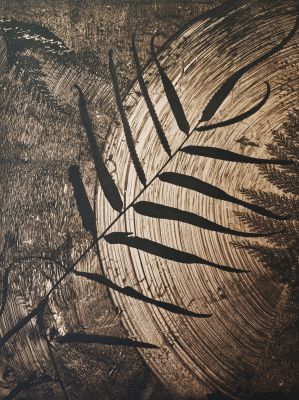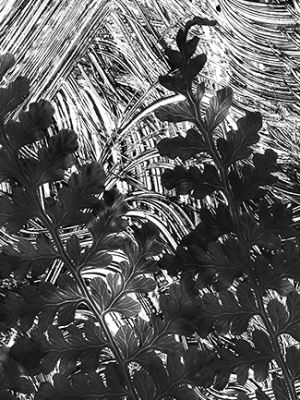 Taking the ink route, Abe got to work making a series of five large images unike anything I have seen. The hybrid process – almost cameraless – netted organic images that have no real precedent.  Part nature print, part photograph, part Cliché-verre (part finger paint for that matter) these ink-based images feel hand drawn, are intricate and uniquely modern.

Furthering the historical references and hybrid approach to the project, Abe hand-engraved elements of each image directly onto the copper plate. Like
Charles Negré
,
Edouard Baldus
and
James Craig Annan
before him, Abe understood that the copper plate offered an 'extended' opportunity to complete his vision for the final prints. A new experience for him, it was great to watch as he experimented testing each engraving tool to determine its effect and to witness 'the artist at work' as he engraved by hand specific areas of the plates.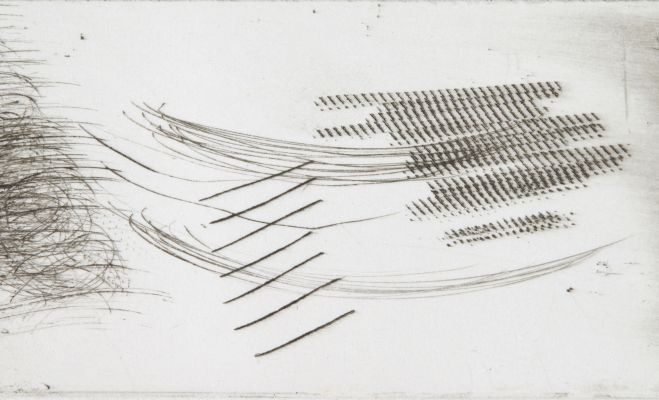 With the help of Paul Taylor of
Renaissance Press
, the portfolio transitioned from an idea to a reality. A reality that in the most basic sense is simply ink masterfully impressed into paper… And I am reminded once more how beautiful this process can be in such capable hands. We are honored to have a set of
Water / Fern / Ink
in our collection.

Water / Fern / Ink Edition of 50 portfolios and five Artist's Proofs Each portfolio contains five photogravures Each photogravure is signed and numbered by the artist Portfolio box: 19 3/4″ x 24 6/8″ | Paper size: 19 5/16″ x 24 5/16″ | Image size: 15″ x 20″ (For purchasing inquiries you can visit Abe's website 
here
)
The making of... https://vimeo.com/348292109